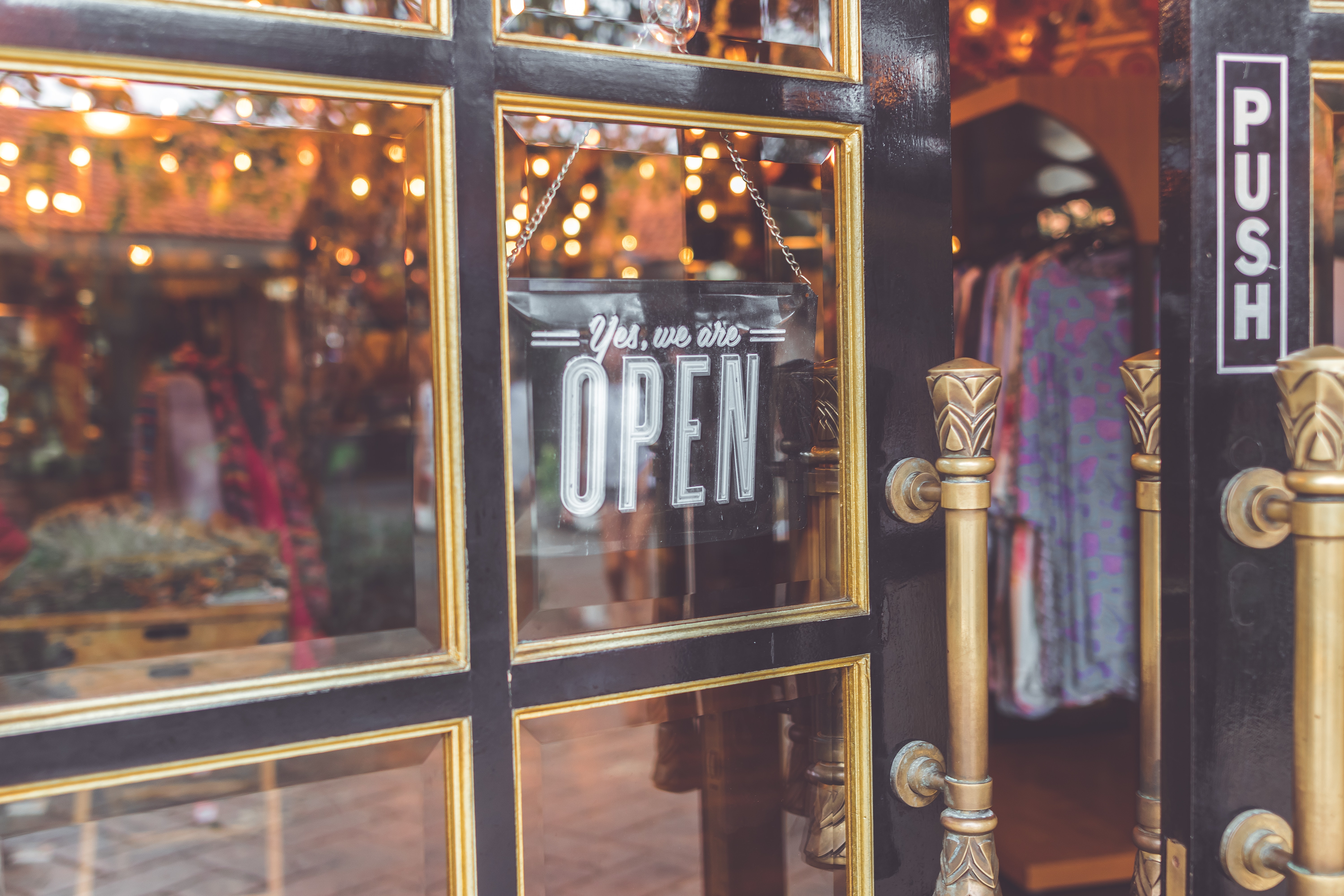 How Physical Retail Stores Are Using Experiences to Win Customers
How Physical Retail Stores Are Using Experiences to Win Customers
---
The headlines haven't looked great for physical retailers over the last decade. Stories of layoffs and store closings became the norm as once untouchable giants closed their doors, unable to compete with convenience and discount prices of online competitors. With the advent of new digital shopping opportunities, many established retailers struggled to compete. Some analysts declared it to be a "retail apocalypse" and predicted the death of in-store shopping. However, recent reports have been encouraging. Retailers are reporting an increase in traffic and sales at physical locations. How is this possible? Retailers that are excelling in the digital age have adapted to the new environment and leaned into their strengths. They are creating strong customer experiences, offering educational services, and creating connections with local communities.
GoShare recently asked several business owners and market leaders to share with us what physical, brick and mortar stores are doing to stay ahead in the digital age. They share their experience and advice to help other retailers looking to find success in the changing retail landscape.
---
Human and Tactile Experiences

Jeremiah Rizzo, Founder, Pollen
Despite some of the disadvantages, brick & mortar shops have a few really big things they offer people that online stores don't. For example, you can offer customers a more "human" and tactile experience. Offering a cup of coffee while they shop, greeting them warmly when they come in, helping them find the exact right product for their needs, these are things that chatbots are trying to do online, but will never quite be the same.
There's a reason that Amazon, Huckberry, Warby Parker, and other major online brands are starting to open retail stores. They want to let people touch, feel, see, and try on the product, while getting friendly, custom advice, and a great experience.
So here are a few things physical stores can do to attract more customers:
1. Think about the biggest pains you can solve for your customers, and take advantage of your physical location to do that. If all you do is show the product, and it's the same price as online, but your store doesn't have any extra advice, expertise, help, or friendliness than a website, why should anyone come to you? For example, a local running store near me put a treadmill in their store. They help you find the right pair of running shoes, taking the time to look at your stride, and ask questions about what kind of training you want to do. After sizing you, they let you run up to 1 mile in the store, where you can test them and see what you think. That's an experience worth visiting, to make sure you find a shoe that won't start hurting 1 mile in, or that you love. A boutique owner I interviewed is another good example. She finds really hard to get items from very small fashion designers (things you'd be hard-pressed to find online), and then brings limited amounts to her stores. This means that if you want a certain dress or style, you have to come in, where you can try it on and shop other styles as well.
2. Create a referral program. Many of the online brands run a 2-way referral program, meaning "give your friends a free ____, and when 3 come in, you earn ____." That's a win-win for everyone. If you had a good experience with the location, you can send a free gift to a friend who might like it too..
3. Make your space warm, eye-catching, and enjoyable to be in. A coffee shop owner I worked with had a wall with a neat graphic painted on it. It was so eye-catching that visitors would come in literally just to take Instagram pictures. She got some good publicity that way.
4. Partner with other small brick & mortars to do events, or host pop-ups so people can experience other products in your store. Let a coffee shop sell baked goods and coffee at your boutique. Or let your local brewery sell beer at your bike shop.
---
Customers Prefer to Shop In-Store


Meaghan Brophy, Senior Retail Analyst, FitSmallBusiness.com
Ecommerce sales are rising, especially around shopping events like Amazon Prime Day and Cyber Monday. However, most consumers still prefer to shop in-store, especially for products like apparel, decor, gifts, and grocery. Many online purchases are crossing items off a to-do list.
Here are some reasons why customers shop in-store and what retailers can do to cater to these shoppers:
Test products in person. People like to know exactly what they are buying. When shopping online, especially on marketplaces, product photos can be misleading. It's common for shoppers to end up with a product that's a different size or material than what they expected. Shopping in-person helps eliminate those concerns as shoppers can test for fit and quality themselves.
Social experience. The social aspect of in-store shopping is appealing to many customers, particularly in today's digitally-driven world. Younger consumers, in particular, enjoy visiting stores with friends and interacting with helpful store employees. To appeal to these shoppers, retailers should have employees who are expertly trained in customer service and product knowledge. Retailers should also have a comfortable environment, free WiFi, and a strong social media presence that encourages shoppers to really spend time interacting with your store both online and offline.
Receive products immediately. Even with free two-day shipping, purchases made online take time to be delivered. Shoppers who need or want something immediately turn to stores to make purchases. Retailers can make shopping even more efficient for hurried shoppers by offering buy-online pickup in-store (BOPIS) services, where customers can place an order online and pick it up in-store that same day.
Retail therapy. For many people, shopping is a fun, stress-relieving activity. It's simply something that people enjoy doing. Retailers can appeal to these shoppers by making their stores comfortable with well-lit fitting areas, seating, and ample space to test products. Offering product samples and demos also helps create an enjoyable experience.
---
Retailers Offer Experience and Community


Aalap Shah, Founder, 1o8
Customers choose to shop at brick & mortar stores to not only better see, touch, and imagine the item they're shopping for but rather, experience the brand and be a part of a community. Stores offer an immersive experience – be it Target or the local toy store and oftentimes, curated merchandise selections, a friendly face, and an ability to have a conversation and get a deeper insight into what is trending/selling. Often times, customers would come to my toy store even though they could buy the same item online to understand what the best toys for their child were.
Often times, when it comes to local and community brick and mortar stores, I feel strongly that it's because of support for local businesses, to have IRL experiences, and to get out into the marketplace and away from home. Since it's so easy to shop on a phone, to me, the reason why you shop at local merchants is because customers want to be part of an experience and the community.
---
Put Customers in Charge of Their Purchase


Steve Dolson, BenchMRK Digital Agency
Customers choose to shop brick and mortar stores for the convenience, service, and tactile experience of product and environment. Customers want to feel in charge of their purchase, get help when they need to and have the product as soon as they buy it. Brick and mortar stores can have things like price checking machines, signage that educates people about the different products, displaying their stories, eco-friendly benefits of products or showcasing sales. Physical stores can attract customers through online campaigns (social, email, website promotions), but also exciting, refreshed storefronts, color-popping branding, engaging signage, free samples, surprises at checkout or even using the senses (sounds, smells, etc.) to attract people into their store. The experience of service, product, and their environment are what is the biggest difference between online and brick and mortar retail.
---
Create an Elevated Experience

Carlos Castelán, The Navio Group
In today's competitive world of retail where consumers can shop online for many different options, brick-and-mortar stores must offer an outstanding, imaginative customer experience that can't be duplicated by online giants. Two examples: Stew Leonard's, the Northeast supermarket chain, offers dozens of in-store customer experiences, from costumed cows walking the aisles to a small farm for the children to in-store dining and free samples to culinary classes. The goal, to attract adults and children to come to the store to shop, be entertained and buy. And Our Generation dolls created an event within Target stores to "pierce" the dolls ears and hosting "Adopt a Pup" events where kids will bring their dolls to the store and receive a free six-inch plush dog to adopt and pose for photos with their friends. This is a very smart way to encourage in-store traffic word of mouth marketing, provide additional value to the customer and all while adding a big opportunity for purchases of additional product. Brick-and-mortar stores that provide creative and memorable in-store experiences can not only survive, but thrive!
---
No Online Offering Can Replicate In-Person Experiences


Lizzie Dunn, Fundera
One of the most compelling reasons that customers choose to shop at brick-and-mortar stores is for physical experience. The activity that shopping in a brick-and-mortar provides is one where customers are able to use their senses (touch, smell, sight, sound, taste) to explore and assess products in-person. There is no online offering that can successfully replicate that customer experience.
Three advantages that brick-and-mortar stores have are their intimacy (with people and spaces), their presence (ability to interact with products), and their mission. Shopping small and supporting local businesses is important to a lot of customers. And, having the opportunity to interact with salespeople and build relationships with a retailer transcends the transactional nature of shopping. It also fosters loyalty and leaves customers with a feeling, rather than a receipt. A lot of the time, customers enjoy shopping brick-and-mortar for at least one, if not all, of these reasons.
One method for attracting customers into a brick-and-mortar store is signage, especially signage that promotes discounts and savings. Another method is pop-up stores and collaboration with other retailers, where you can use the power and scope of two brands to promote the combined experience of both retailers in one place. And lastly, one of the most powerful things that retailers can leverage is their staff. Having engaged, helpful, and kind salespeople can make or break an experience for a potential customer. By fostering meaningful relationships with customers, retailers can foster loyalty, increase CLV (customer lifetime value) and promote positive word-of-mouth marketing.
---
The Value of Advice and Information


Tod Colbert, Founder, Weather Tight
Advice and information are the big things that a "brick and mortar" still has to offer that sets them apart from online megastores. And, sadly, many can't afford to provide it any longer. If you are just buying commodities or essentials then online shopping is easy, efficient, and hard to beat. However, if you are buying a new item or a one-time item think electronics, furniture, clothing, home improvement materials then the "brick and mortar" has a unique advantage that I wish consumers recognized and valued. For instance, let's say you are going to paint your home. It is very easy to go on-line and order paint, brushes, rollers, and all your supplies, but what if you have a question? Or what if you don't know the first thing about paint? About all the help you can find online is a paragraph review of the product and maybe some basic "tips" but what about a question for your specific situation. You will be hard-pressed to get the answer. Even if you submit a question to an online forum you might get some responses but they will be hard to understand, all over the place, and on some, you might even get some of the respondees starting to argue amongst themselves… not helpful in the least! Imagine if a paint store existed that was located in your city, familiar with your weather, building codes, building materials, and the paint they sell. Further, imagine that you could walk into this paint store and speak directly to a person that was knowledgeable about all the aspects of painting. They talk directly to you, they make specific recommendations, and they sell everything that you need in one place. I am not crazy these places do exist, or at least they did. However, if consumers are only concerned with saving a buck or two then they will forever forgo this vast wealth of help and knowledge. A perfect example used to be the local hardware store. No not Home Depot, Lowes, Menards or other big box stores. I am talking about Coast to Coast, True Value, Ace Hardware. The stores that don't exist anymore… Ace is hanging on but who knows for how long. As long as people think it is smarter to buy a bag of 10 washers for $3 than to buy one washer for 50 cents the small local owned hardware, paint, really any kind of stores will vanish. And the tragedy is that local tradespersons used to open these stores and for a bit more unit price per item they dispensed valuable advice about what you were buying. Maybe you had a leaky faucet the person at the hardware store could help you diagnose your issue and also give you steps on how to fix it yourself. In and out for 50 cents and armed with a whole bunch of information. Big box stores generally can't hire this knowledge for the wages they pay. So now you find yourself standing in your kitchen with 10 washers and not the foggiest idea what to do, but you only paid 30 cents per washer… good for you!
It is really amazing that technology has taken us back to a 2-dimensional world. Everyone seems content with this limitation and so looking forward to a "virtual reality" that will make things seem realistic. Brick and mortar retailing is "fully dimensional" already and it is loaded with information that is not limited to small review paragraphs or "chatbots" that have basic understanding. You just have to be willing to get off the couch and look up from your screen.
---
Brand Activation Centers
Terry Tracy, CEO & President, Endeavor Athletic 
Our locations are really "brand activation centers" – they are at the forefront of providing a holistic, synergistic, seamless Omni-channel experience. Our pop-up strategy allows us to meet the customer wherever they are – not just on their phones – but where they live, work, and play – without the expensive, long term entanglements of legacy brands. We strive to be ubiquitous – on their commute, in their gym, where they holiday on long weekends.
Our in-store programming drives traffic and loyalty – yoga classes, boot camps, juice bars, happy hours, personal shopping appointments, and soon, customization. When you sell luxury goods, the three-dimensional experience is invaluable. You have to feel our fabrics and see what goes into the technical design and construction to really get it – and typically once the customer does – they are hooked.
Also, our brand activation centers are laboratories. There are many reasons why we moved the majority of our production domestically [Baltimore, MD] – pride in our country, the expertise in our factories, social equity considerations, reducing the brand's carbon footprint – but perhaps above all we get real-time feedback from customers and then shoot down 95 to Baltimore to adapt our designs in real-time. Our best customers know this and love that they are part of that process, part of our growth, part of our story.
We are combining three powerful and enduring trends – craft + luxury + active – in our locations and in a way that is truly distinct in our category. We are lucky to have so many Philly-lovers who are rooting for us and evangelizing about the brand to others as well. Authenticity is a word that is often bounced around, but it's also hard to fake by definition. When you use locations to have unparalleled proximity to your product and your customer, it's hard to get it wrong.
---
The Value of Advice and Information
Ann Campeau, Strut Bridal Salon
The bridal industry is often accused of being slow to change or adopt technology. But there's a lot to be said for the experience we provide our brides. Brides can bring the most important people in the lives to choose the gown they'll wear for one of the most important days in their life. You can't share the joy of finding a beautiful gown when you're shopping online. You don't get the feeling of "THIS is what I'm going to wear on my special day, and it makes me feel beautiful" when you click "add to cart".
At Strut Bridal Salon we specialize in curvy and plus size brides. We offer more than a dress try-on trip. We offer expertise in fitting curvy bodies. We offer customization options to get you exactly what you want. We recommend accessories for head to toe styling. We act as your biggest cheerleader and your most sincere confidant.
Every day bridal stores across the US are fixing online wedding dress buying nightmares – gowns that arrive too small, the wrong color, not as advertised. Sometimes they are so poorly made they cannot be altered. Brides find out they have to spend half the cost of the dress just to ship it back. When something doesn't go according to plan in a bridal store, you have someone to call, a place to visit, and a professional to help figure out your options. It's way better than an anonymous service email.
Recent statistics from theknot.com indicate that buying wedding dresses online has actually decreased. There are now more bridal stores offering a wider variety of offerings, even for less traditional brides. Brides still choose to visit brick and mortar bridal stores because of our expertise and the experience we provide. Some brides say buying their wedding dress was the best part of planning their wedding!
---
Learn More
GoShare partners with retails, small and large, to provide on-demand delivery services. Our virtual fleet provides last-mile delivery, reverse logistics support, and more. Leverage our network of thousands of local delivery pros as quickly as 30 minutes. Help create a great experience for your customers, including store-to-home white glove delivery. Learn more by clicking here.
Looking for more information about how small businesses and brick and mortar businesses can stay competitive, even in the face of retail giants? Check out these additional posts from GoShare.