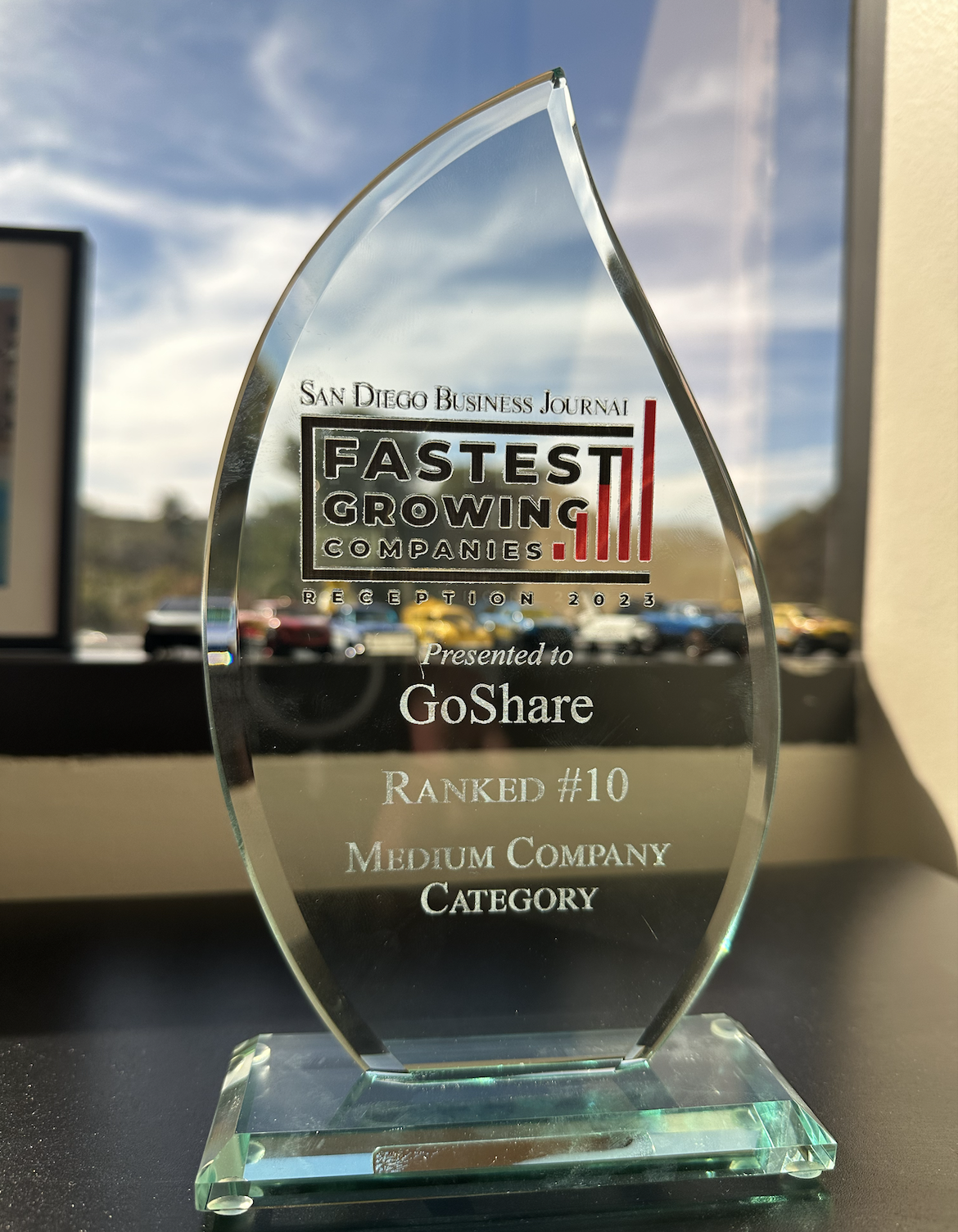 GoShare Recognized as 10th Fastest Growing Medium Sized Company in San Diego
GoShare Recognized as 10th Fastest Growing Medium Sized Company in San Diego
---
In an exciting milestone for the company, GoShare has been recognized by the San Diego Business Journal as the 10th fastest growing medium sized company in San Diego. This acknowledgment solidifies GoShare's position as a leading player in the supply chain industry and highlights its success in the local market.
GoShare is a technology platform that connects truck and van owners with individuals and businesses in need of last mile delivery, middle mile delivery and moving services. The company's innovative approach combines ease of use, affordability, and reliability, making it a go-to solution for anyone in need of efficient transportation services.
With its roots in San Diego, GoShare has experienced tremendous growth over the past few years. This recognition not only underscores the company's rapid expansion, but also its commitment to providing exceptional customer service and cultivating strong relationships within the community.
GoShare's rise to prominence can be attributed to several key factors. First and foremost is its user-friendly platform, which seamlessly connects customers with local truck and van owners. The simplicity of the booking process and the transparent pricing structure have given GoShare a competitive edge in the market.
Additionally, GoShare's commitment to quality and reliability has resonated with customers. The company carefully vets every driver to ensure they meet high standards of professionalism and customer satisfaction. This attention to detail has earned GoShare a reputation for exceptional service, resulting in a strong and loyal customer base.
Furthermore, GoShare's success is a testament to the booming sharing economy. The convenience and affordability of services provided through platforms like GoShare have contributed significantly to their popularity. GoShare serves as an excellent example of how this new economic model can transform traditional industries and create new opportunities for both customers and service providers.
The recognition from the San Diego Business Journal is a well-deserved accolade for GoShare and its dedicated team. Our hard work, passion, and dedication have been instrumental in the company's growth and success. GoShare's CEO, Shaun Savage, expressed his gratitude for the honor, saying, "We are thrilled to be recognized as one of the fastest growing companies in San Diego. This recognition is a testament to the dedication of our team and the support of our customers."
Looking ahead, GoShare has ambitious plans for expansion beyond San Diego. The company aims to replicate its successful model in other major markets, helping individuals and businesses across the country access reliable, affordable on-demand last mile delivery services.
As GoShare continues to thrive and transform the transportation industry, it serves as a shining example of entrepreneurship, innovation, and community engagement. With its stellar growth trajectory and commitment to customer satisfaction, GoShare is undoubtedly a company to watch in the coming years.