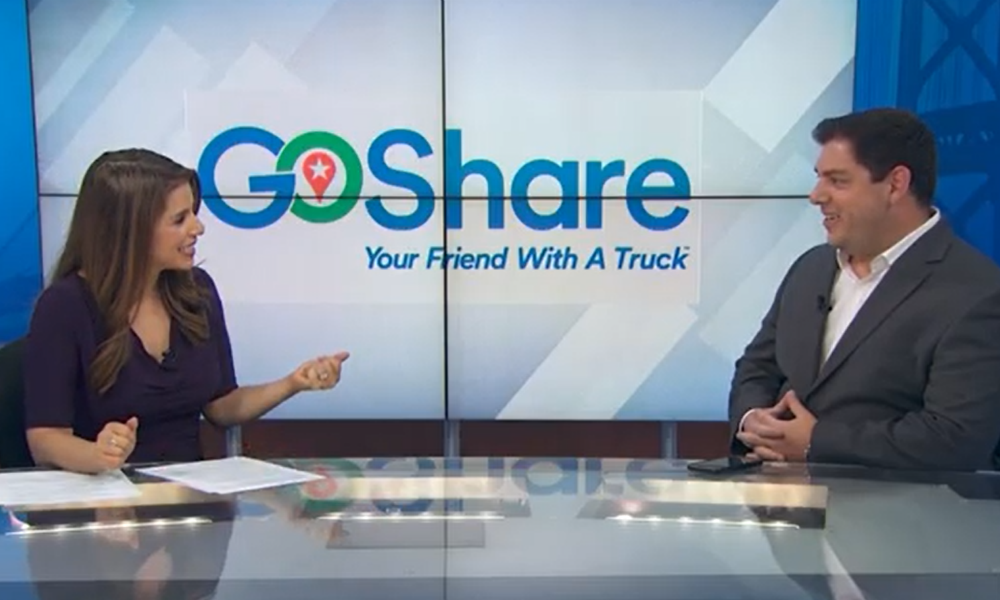 GoShare CEO on Bay Area Focus with Michelle Griego
GoShare CEO on Bay Area Focus with Michelle Griego
---
GoShare was recently invited to Bay Area Focus on CBS SF Bay Area. CEO Shaun Savage spoke with host Michelle Griego about GoShare's services in the Bay Area and how they could be a boon to Black Friday shoppers.
Michelle Griego: Well if you went crazy shopping the sales on Black Friday, there is a new app that helps you get those purchases home, and it is called GoShare. CEO and founder Shaun Savage is here to tell us all about it. Welcome to Bay Area Focus.
Shaun Savage: Thank you, I appreciate you having me on the show.
Michelle Griego: Well I appreciate you coming because we're all shopping, getting ready for the holidays…
Shaun Savage: Tis the season.
Michelle Griego: Tis the season to shop, and you make it a lot easier.
Shaun Savage: We do. We work with a lot of retailers to provide an on-demand last mile delivery service.
Michelle Griego: Okay, so tell me what that means for retailers.
Shaun Savage: So, for the retailers, it's if you are used to long delivery waits, it could be up to two weeks. GoShare shortens that to a couple of hours.
Michelle Griego: Okay, so you can instantly have it.
Shaun Savage: You can instantly have it in less than an hour. We focus mostly on the big bulky items so most of our delivery professionals have pickup trucks, cargo vans, and box trucks. And, we just make it easier for retailers to provide an on-demand delivery service to compete with the likes of Amazon. We do work with individual customers who need help with either moving to a small apartment or getting a purchase home from a retailer. We also work directly with the retailers we call them preferred partners. And, we either supplement or replace their existing delivery service that might be a little bit slower or more expensive.
Michelle Griego: Well it seems like your goal with this service is just to become more customer-friendly.
Shaun Savage: Yes, and I think historically the delivery industry has not always been customer friendly. So we designed our technology to make it easier for both the store and the customer and the driver to have a good experience with each delivery.
Michelle Griego: You know, that's important all year round, but especially during the holidays because I think people get so stressed out shopping.
Shaun Savage: Yeah, it is a stressful time of year for sure. And, anything that we can do to make it easier for them, I think they appreciate that.
Michelle Griego: You also help out businesses in a different way too, because you can provide virtual fleets for them.
Shaun Savage: Correct, a lot of businesses see GoShare as their virtual fleet. So, instead of paying to maintain and own a fleet of trucks, you can access that fleet of trucks whenever you need it.
Michelle Griego: So, you have a fleet of trucks and drivers and all that…
Shaun Savage: In my pocket.
Michelle Griego: In your pockets! Well, you do, it's in your phone right there. Just one little button. How did you come up with this?
Shaun Savage: You know, it was something that I needed personally. Every year I found myself renting a truck for one reason or another. And it was always a bad experience. And so I just thought, well there's companies like Uber and Lyft out there that allow you to access a car on demand. Why can't you access a truck on demand? And, so that was the idea that kind of drove it home.
Michelle Griego; And there you go, that idea was born. And now the company is here to help you shop. So that is good. Shaun, thank you so much for coming on.
Shaun Savage: You're welcome, I appreciate you for having me.
Michelle Griego: Appreciate you coming on. And, you can find out more. Get estimates and book your delivery. Just go to GoShare.com.
—
UBER® is a registered trademark of Uber Technologies, Inc.  Use of third-party trademarks or registered trademarks does not imply any affiliation with or endorsement by such third-party.