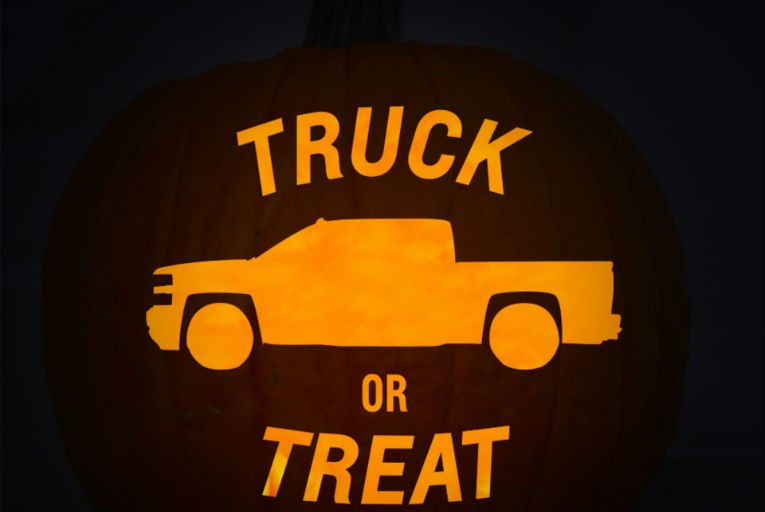 Free Pickup Truck & Monster Truck Pumpkin Patterns
Free Pickup Truck & Monster Truck Pumpkin Patterns
---
Halloween is just around the corner. What better way to display your truck love to the neighborhood than carving up a tribute on your pumpkin. We've combed the web and pulled together the best collection of pickup truck and monster truck pumpkin patterns available. These patterns have been posted for free by other truck-lovin' companies and fans. They are the perfect choice for revving up your pumpkin carving this year.
LaFontaine Automotive Group – Chevy Truck Stencils


A big thanks to the team at LaFontaine Chevrolet for providing 10 free Chevy inspired pumpkin stencils. From a Silverado grille inspired design to their adorable, "Truck of Treat" tribute, there are enough patterns to keep any Chevy loving family happy.
Ram Zone – Dodge Truck Stencil


The team over at Ram is ready to help Dodge lovers carve up some fun this Halloween. Their pattern is perfect for moderate level carvers, or patient beginners willing to take some time to get the details right. This pumpkin will sure to be cause envy in all the other truck lovers in your neighborhood. Find the pattern here.
Ford – Built Ford Tough Stencil


The Ford F-series has been the number one selling vehicle for over a decade. Our love for Ford trucks runs deep, and Ford knows it! So, they've provided this free Built Ford Tough stencil to get your pumpkin into gear this holiday. Find this stencil and other patterns here, provided complimentary for the social media team at Ford.
If tractors are more your style, enjoy a selection of free patterns from CAT. You'll find a template for all your favorite worksite vehicles. There is a backhoe, wheel loader, excavator, dozer, machine tracks, skid steer loader, off-highway truck, and CAT logo. Find their pumpkin stencil selections here.
Disney – Tow Mater Carving Pattern


Do you have a junior truck lover at home? Then they are probably a fan of Disney Pixar's Tow Mater character. This kind, optimistic tow truck is always there to support his best friend Lightening McQueen. His quick humor and charm light up the big screen, and can light up your pumpkin with this free carving pattern from Disney Family.
Volvo CE –  Construction Equipment Pattern


What pickup truck owner doesn't also have a soft spot in their heart for some powerful, heavy duty construction equipment? If you want to power-up your pumpkin even more this year, check out these free stencils from Volvo CE. They are prefect for dump truck and bull dozer lovers, both young and old.
—
Need a truck? GoShare can connect you with a network of local moving and delivery professionals with pickup trucks, cargo vans and box trucks. All delivery professionals are licensed, background checked, and insured.
Got a truck? Sign up with GoShare to earn money driving with your vehicle.