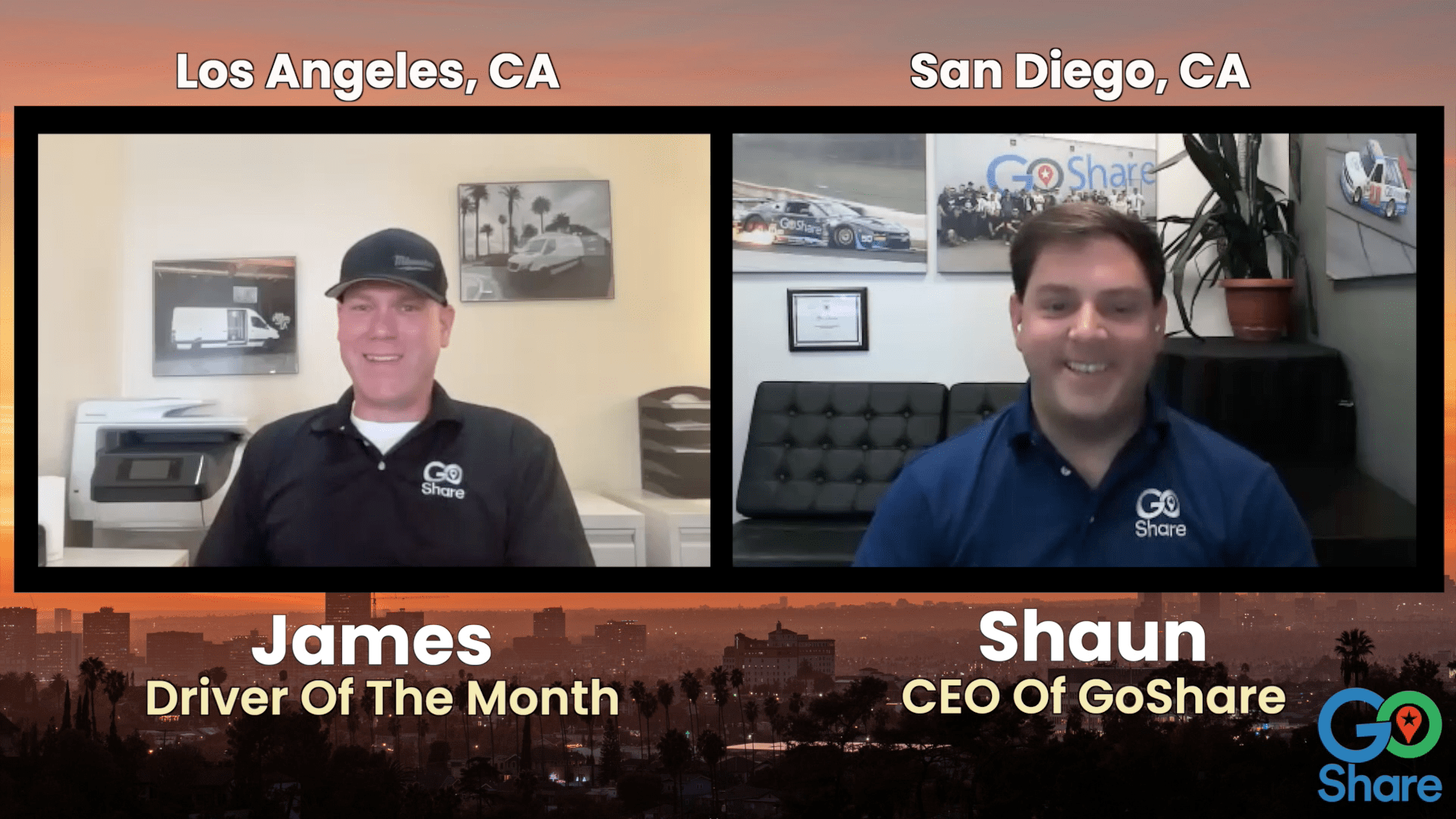 Meet James our Driver of the Month June 2023
Meet James our Driver of the Month June 2023
---
Meet the latest GoShare Driver of the Month, James from Los Angeles, CA. A top performing delivery professional with GoShare, James has an open discussion with GoShare CEO Shaun Savage about his experience working with GoShare and offers some tips for other GoShare drivers who want to be successful on the platform. James has wowed customers with his friendly attitude and enjoys using his cargo van to help others and earn money.
Why Join GoShare?
Flexible Hours
As an independent contractor you can work when you want. The GoShare platform gives you the flexibility needed to achieve a healthy work-life balance, it's the perfect side hustle. Accept deliveries on your schedule and never worry about letting us know when you take some time off.
Strong Earnings
GoShare deliveries pay some of the highest per hour earnings in the logistics industry. GoShare delivery professionals are able to turn their vehicle into a money maker, supplement their income, and keep 100% of their tips. Top delivery pros earn thousands of dollars per month.
Benefits
We are about building a community of delivery professionals who want to be their own boss. As a GoShare delivery professional you get access to benefits and perks such as healthcare, vehicle discounts, and cash advances. You can also win cash and other prizes in one of our many contests.
Still not convinced? Watch the video to hear James explain why he loves working with GoShare. Top delivery professionals like James are able to earn extra income on a flexible schedule with GoShare and we're confident that you can too, learn more and apply now.
Video Transcription:
James:
My name is James and I work with GoShare. I'm a contractor with them, and I'm out of Los Angeles, California and go down to San Diego and run that area also, and do a little bit of work with both and everywhere in between, actually, Long Beach, the Greater Los Angeles, Anaheim area, all over Southern California.
Shaun:
It looks like you're a good photographer. Is that one of your hobbies?
James:
Yeah, it is one of my hobbies, I just have a knack for getting cool shots. So once I got the van I was like, "Oh, it's so cool." I'm taking pictures left and right with it.
Shaun:
That's cool. Any other hobbies? What else you do other than photography outside of GoShare?
James:
Obviously driving or I wouldn't be like all over the place with this. I grew up go-karts and cars. I had an automotive shop for a while. I ended up going ahead and stopping my rent there and buying the cargo van and getting away from that. But I still do auto repair on the side. And some of my family is in drag racing so we'll be at the track a lot and go check them out and see what they're doing. And I've got behind the wheel of a couple of their race cars before and that's fun, fun stuff. So that's a big hobby is cars.
Shaun:
That's awesome. Well, I think we have a hobby in common then if you could see my background.
James:
I see the GoShare race car up there.
Shaun:
Yeah, we love racing. And, yeah, one of our first angel investors owns a racing team and so we were the sponsor of his racing team and then we ended up getting into the NASCAR truck series for a year and it was a lot of fun.
James:
Oh, wow.
Shaun:
Why do you think customers choose GoShare? What do you think that customers like about it?
James:
It's just so much easier than renting a truck or whatever. You don't have to worry about returning the truck, let's say. Putting gas in it, all that. The price is all included in what we do and they don't have to do anything but go on an app and just set it up, put the information in, get a quote and go forward with it. And then they don't have to do anything. They can help if they want. If they don't want to unload and load anything, they don't have to. They can request another person to be there to help. It's through GoShare also. So they love it. It's just like it's the simplest thing and it's efficient for them.
Shaun:
What would you tell someone who is thinking about driving with GoShare?
James:
Well, first off, you really got to love to run around and you got to love to drive. If you don't like being on the road, it's probably not for you. That's the starting place. Now, you also, you got to say it, the second biggest thing, and maybe it's the first biggest thing really, is you got to be a people person. That's what I feel. You got to be a people person to make it work because you are going to deal with, or I don't want to say deal with, you're just going to have your clientele, the people that are paying you, are the ones that different types of people that you come in contact with and you just got to want to be friendly. And as far as the team with GoShare behind the scenes on the phones and in the office, great customer support, and I couldn't do what I do without that.
Shaun:
Those are great points. I think you're right. Generally, being a people person in this type of environment is really helpful, because you are going to interact with and deal with a lot of people. You're going to deal with customers directly. You're going to deal with our customer support team occasionally. And you're going to deal with other delivery professionals, other helpers for those larger jobs to move those big and bulky items. So, yeah, you do have to be comfortable dealing with and working with other people. You have to want to be a team player, so to speak. Even though sometimes you are just really working for yourself. So you've done, it looks like a couple hundred projects. You've got a perfect five star rating, so congrats on that. That's really impressive.
James:
Thank you.
Shaun:
What advice do you have for other delivery professionals who are maybe newer and want to be highly rated and provide a great service?
James:
I would say the money comes from keeping a good rating. Ask a few questions first. Is there anything I need to know? Is there anything that needs to be protected more than it does when we're moving? Just anything that you can find out from the customer first. You start with the customer, not the product we're moving for them, not the item. Start with the customer. That's what keeps a good rating, I believe.
Shaun:
What do you think sets GoShare apart from the competition?
James:
You've got a great team. They're looking at both sides, I find it. Like we talked about before with balancing the customer experience with the driver experience. Some of these apps, I think, and not from my experience, but what I've been talked to by other people who have told me, other drivers, that they don't necessarily look at both sides as well. They don't represent the driver as well as GoShare seems to. Everything is always being updated as far as different pricing or what we're being paid. It's always being looked at, which is great. It's not like, "Oh, it's one set price that you're going to get paid as a driver and then 10 years from now it's going to be the same thing." It's always being monitored for the times, changing with the times.
Shaun:
Great point. Pricing is dynamic. It does fluctuate and it varies in different locations too, and at different times of the year, and different economic circumstances. Well, James, it was really great meeting you. Thank you so much for the feedback.
James:
It's been an honor talking with you and meeting you, Shaun, and thank you so much for taking the time to get my input and that's one of the things why GoShare is so good, to get their driver's input. That's awesome.
Shaun:
Yeah, it's super important for us. You guys are the backbone of the company and happy to get your feedback and hear more from the front lines about what's happening. So thank you.