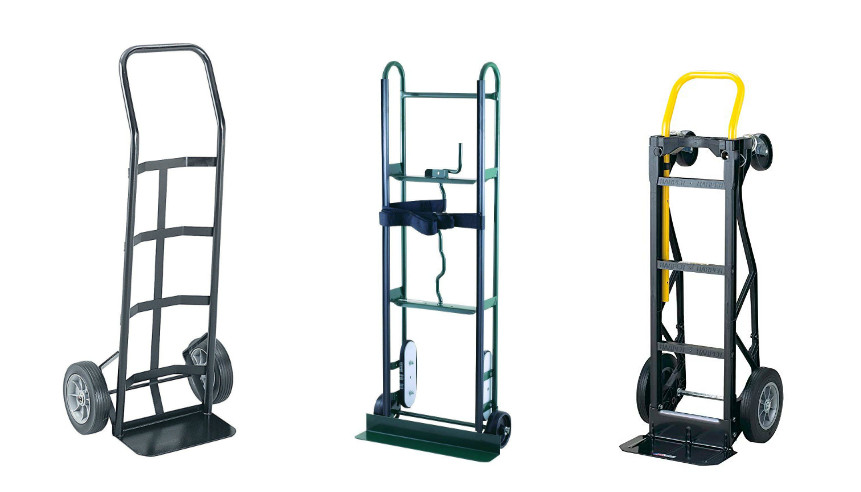 Choosing the Right Dolly for Your Move
Choosing the Right Dolly for Your Move
---
Anyone who has ever had to move knows, packing and carrying all your things out of the house is backbreaking work – literally! If you've got a lot of heavy lifting to do, consider purchasing or borrowing a dolly to help make your move quicker and safer for your back. Choosing the right moving dolly can make a big difference in how easy and safe your move is.
A dolly is basically nothing more than a platform on wheels. It's a helpful tool for moving large and bulky items. But, picking the right dolly can be more complicated than you think! There are many different types of dollies, and it's important to choose the right one for the job. You may find yourself asking, what's the difference between a furniture dolly vs. a hand truck vs. an appliance dolly?
Use this helpful guide to compare the most common different dolly types and select the right one for your move.
Furniture Dolly

A furniture dolly should be used to carry heavy cargo, often up to 1,000 lbs. Most furniture dollies are flat platforms, with four wheels. They may also be called a moving dolly. The platform area may be covered in carpet to cushion the furniture and prevent scuffing. Furniture dollies make it easy to move large couches, shelving units, chairs and more. But, they do have some disadvantages. There is no lever or lifting mechanism, so you will need some manpower to lift your item onto the dolly. These dollies are not suitable for staircases.
Push Cart

A pushcart dolly also called a platform hand truck, is similar to a furniture dolly. However, this dolly features the addition of a handle to allow for easier maneuvering and steering. The handle on the pushcart can increase the amount of control you have over your load, and reduce the chance of bumping into walls and other furniture while you navigate a room. Pushcart dollies may not be appropriate for some large and wide items, such as couches, that need to be balanced across the center of the platform. A heavy-duty push cart dolly may cost more than a furniture dolly, which is typically the most inexpensive type of dolly.
Hand Truck or Utility Dolly

The traditional hand truck, also called a utility dolly, maybe the image that comes to mind for most people when they think of a dolly. Hand trucks are L-shaped moving dollies with an upright handle, two wheels, and a small ledge on which to set your cargo. The hand truck dolly is popular for its all-purpose versatility. Simply tilt the item you wish to move and slide the dolly underneath. Then, tilt the hand truck back until the weight is balanced over the wheels and walk forward. Hand trucks come in several different weights, so do your research before selecting one for your job. Folding hand truck dollies can be convenient for storage or stashing in your car. However, the folding hand trucks are also lightweight and may not be appropriate for heavier loads. Heavy-duty hand trucks can move an item that is 1,000 lbs or greater.
Convertible Hand Truck

This 2-in-1 dolly can transform from a traditional hand truck into a pushcart. While 2-in-1 dollies can cost a bit more than other options, they are perfect for jobs where versatility is required. And, they take up less room in your garage than storing multiple dollies.
Appliance Dolly

At first glance, an appliance dolly may look a lot like a regular hand truck or utility dolly. Appliance dollies feature straps to help secure and protect your bulky item. Many appliance dolly also commonly feature an additional handhold to help with steadying the load and moving on an incline. This dolly is the right choice for moving washers, dryers and other large household appliances. Check our our tutorial on How to Use an Appliance Dolly to learn how to safely secure and transport items with this tool.
Choosing the right moving dolly will not only help save you time in loading and unloading, but it can also prevent accidental dropping and damaging of heavy items. Some items may be so large, that you simply can't lift or move them without a dolly.
Need some help with your move? GoShare delivery professionals are not only available to bring common dolly types, they have other moving equipment as well. They will pad your items with moving blankets and secure them with ratcheting straps to ensure their safety and protection during transit. If you are ready for some assistance in your next move, get a free quote at www.goshare.co or on the GoShare app.