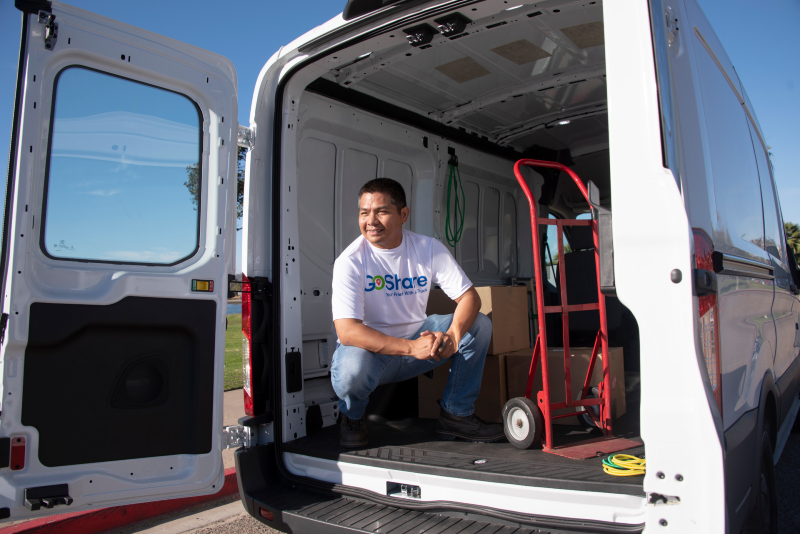 Best Used Cargo Vans to Buy
Best Used Cargo Vans to Buy
---
After years of wear and tear, your old cargo van is showing clear signs of slowing down. It's time for a replacement. However, you may not have the budget or desire to make a large investment in a brand-new vehicle? Through careful research, you can often get more bang for your buck by investing in a used cargo van. Depending on where you shop and what you're looking out for, the used vehicle market can be paradise for terrific deals and steals. 
There are a handful of full-size and small cargo van models from top manufacturers available on the market today. While they all get the job done, some models perform notably better than others. We've narrowed down our list to the three best used cargo vans to buy for both full-size and compact models. Take a look at our top three used full-size and compact cargo vans that offer the most value for your money.
Top Three Used Full-Size Cargo Vans
#1) – Ford Transit
The Ford Transit is the best-selling cargo van in the U.S., and for good reason. The Transit is a versatile work van, offering above-average fuel efficiency and stellar cargo capacity, right behind the Mercedes-Benz Sprinter, for a reasonable price. The Transit offers a wide array of configurations, including wheelbase models and body styles. It comes equipped with a standard 3.7L V6, a twin-turbo 3.5L EcoBoost V6, or a turbocharged 3.2L inline five-cylinder. If you're concerned with power, the EcoBoost engine offers 400 lb-ft of torque. Since the Transit is the most popular full-size cargo van on the market, you can find thousands of used Transits on Autotrader at a going rate of $20,000 to $30,000. 
#2) – Mercedes-Benz Sprinter
The Mercedes-Benz Sprinter is a cargo van juggernaut. Although the Sprinter is quite pricey depending on modifications and upgrades, its sizeable capabilities are difficult to ignore. If you're a delivery professional who constantly engages in heavy-duty work such as furniture delivery, apartment moves, and junk hauling, the Sprinter has a lot to offer. It holds the highest maximum payload capacity and cargo space among its competition, which is perfect for carrying and transporting bulky items on a daily basis. Since you can invest in several customization options for a Sprinter, you can expect a huge price variation among Sprinters on Autotrader, ranging anywhere from $20,000 to $45,000.  
#3) – Ram ProMaster
The Ram ProMaster is an all-around workhorse that can meet both recreational and commercial demands. While its capabilities never quite reach that of the Ford Transit or Mercedes-Benz Sprinter, the ProMaster is both practical and reliable. It provides spacious cargo area, falling just behind the Ford Transit in terms of cargo space and payload capacity. The ProMaster has won Edmunds' Best Retained Value Awards and, if well-maintained, may be able to be placed back on the used market for a great resale price. Similar to the rest of the full-size vans, the ProMaster's average price on Autotrader ranges anywhere from $15,000 to $25,000. 
Top Three Used Compact Cargo Vans
#1) – Ram ProMaster City
The Ram ProMaster City is a top contender for the best compact cargo van on the used market. Offering a slightly higher maximum cargo space and payload capacity than the Ford Transit Connect. In addition, the ProMaster City has the best gas mileage among compact cargo vans. With front-wheel drive configuration, driving on icy roads during heavy snowfall isn't a concern. You can expect the ProMaster City to be priced similarly to the Transit Connect on Autotrader, ranging from $15,000 to $25,000. 
#2) – Ford Transit Connect
If you're looking for a dependable compact cargo van, The Ford Transit Connect matches the renowned status of its full-size counterpart. Despite lesser power and cargo capacity than the Transit, you can benefit from the van's greater agility and maneuverability. The Transit Connect is among the top of compact cargo vans when it comes to fuel economy and cargo space and capacity. It's outfitted with either a 2.5L inline-4 or a turbocharged 1.6L EcoBoost inline-4, making it more fuel efficient than the Transit. You can find a large selection of used Transit Connects on Autotrader. The Transit Connect is usually priced at around $15,000 to $25,000, making it a great choice for those who still need the general utility of a cargo van without all of the heavy lifting.
#3) – Nissan NV200
The Nissan NV200 is an affordable compact cargo van that boasts similar functionalities to other compact cargo van models. It contains a small body frame, which makes it easy to maneuver. Although you can find better gas mileage and power in the models listed above, the NV200 is generally sold at a noticeably lower price than its competitors. The NV200 is a safe, cost-effective choice for those looking to own a compact cargo van with solid capabilities. You can find a used Nissan NV200 on Autotrader going anywhere from $12,000 to $21,000.
Before diving buying one of the used cargo vans on our list, we've compiled an array of tips to help you with the tough decision-making process of purchasing any used vehicle. Take a look at our essential tips for buying your used cargo van below. 
Where to Shop From
A big influence on the quality of your used cargo van purchase can depend on whether you shop from a private seller or dealership. Both options offer an array of benefits that can positively impact your used shopping experience. It's important to take into consideration the set of drawbacks for each option as well.
One of the major attractions of buying your used cargo van from a private seller is their profound knowledge of the vehicle that they are selling. Since many private sellers have previously owned the vehicle that they are selling and deal with a much lower volume of vehicles compared to a dealership, they are able to deliver important insights to customers. 
Additionally, you can negotiate to a greater degree with private sellers. Dealers are often stubborn due to their profit targets. Private sellers, on the other hand, are concerned with selling their old vehicle swiftly so that they are able to attain the funds necessary for a new vehicle. This means that you'll tend to have an easier time finding a good bargain for your used cargo van when shopping from a private seller.
An alternative option is to shop for your used cargo vans from dealerships, which is a common route for many vehicle shoppers. If you lack the essential knowledge needed to detect flaws in a used vehicle, purchasing from a dealership is often the safer choice. Dealerships extend an array of protective measures to customers. You can expect warranties, trade-in options, and professional inspection certifications, meaning there's less risk involved with your used purchase. 
Another beneficial factor to consider is that dealerships care about their perception in the public eye. A negative review from an unhappy customer is sure to bring down the reputation of the sales agent and the dealership in general. Thus, dealers are naturally inclined to assist and resolve potential issues during and after your used purchase. Plus, don't worry about the stressful handling of paperwork since most dealerships take care of that for you.
What to Look Out For
Whether you buy your used cargo van from a private seller or dealership, it's always crucial to keep a lookout on the vehicle's condition and past history. Through a website like Carfax, you can obtain a comprehensive vehicle report that includes information on previous ownership and past accidents, a complete background check, repair history, and more. If you detect any potential issues with the used cargo van for sale, you should always take a precautionary measure and bring the van to your local certified mechanic for inspection.
The title of a cargo van can play a huge role in the quality of your used purchase as well. While a salvage or rebuilt salvage title may be priced lower, it can be a headache to address the problems. Extremely high maintenance and repair costs mean that you'll end up losing more money at the end of the day. Plus, salvage titles are difficult to insure, which may prevent the use of a vehicle with those titles for certain gig platforms or contract work.
Take into account the amount of past recalls that certain cargo van models have undergone. Similar to salvage titles, recalls present a nuisance that can affect your finances and safety. Avoid the risk of purchasing a used recalled cargo van model if possible. If you do consider the  purchase of a used cargo van with a past or active recall, take the right step by inquiring from the previous owner about its repair history on the affected parts. 
Additional Resources
Check out these other helpful articles to get more information on cargo van performance, reviews, and tips.
Opportunities for Van Owners
GoShare offers opportunities for pickup truck, full-size cargo van, and box truck owners to earn extra income by helping individuals and businesses in their communities with on-demand moving and delivery projects. If you are interested in earning extra income doing part-time or weekend projects, visit www.GoShare.co/Drivers to learn about our program.