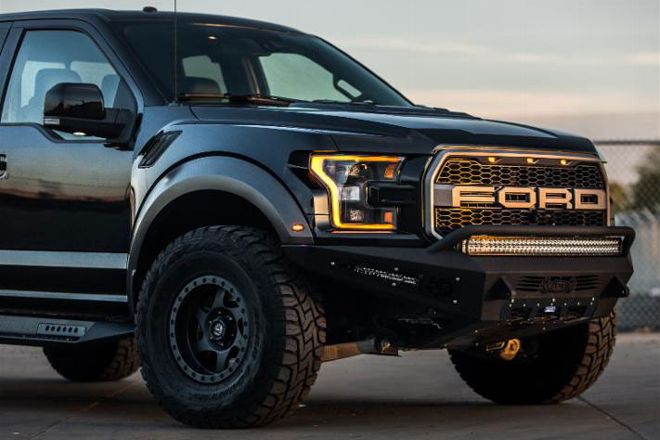 Best Pickup Trucks From The Detroit Auto Show
Best Pickup Trucks From The Detroit Auto Show
---
The 2016 Detroit Auto Show brought an abundance of good news for pickup truck enthusiasts. Several new models were announced including some very exciting news from Jeep. We will take a look at some of our favorite new pickup trucks and some of the innovative features that you can expect to see in these new models.
2017 Ford Raptor SuperCrew
If you are looking for the most insane pickup truck available, look no further than the 2017 Ford Raptor Supercrew. Ford claims that the truck is capable of going 100 MPH off-road. This will come in handy if you need to chase ISIS through the Iraq desert. The new Raptor is longer and more powerful than it's predecessor. It comes equipped with a turbocharged 3.5-liter Ecoboost V6 that is more powerful than the old truck's 6.2-liter V8. This beast of an engine is paired with a 10 speed automatic transmission. The new extra long Raptor will be available in dealerships this fall.
Nissan Titan Warrior Concept
Nissan is going take on the mighty Ford Raptor with their impressive looking Titan Warrior. The Warrior is still a concept at this point but there is a good chance that Nissan will put this monster truck into production to compete with Ford. The Titan Warrior is beautifully designed and is powered by a mighty 5.0-liter Cummins diesel V8. The Warrior stands tall thanks to massive 37 inch tires mounted on 18 x 9.5-inch wheels. The extra height and the wide body make this a truck that you can't miss on or off road.
2017 Honda Ridgeline
If you are looking for more of a mid-size truck with a roomy back seat the new Honda Ridgeline may be a good fit for you. The 2nd generation Ridgeline looks better than ever and should to be a very practical choice when it comes to fuel economy. The new Honda Ridgeline will be powered by a 3.5-liter V6 making 300 HP and will be available with standard front wheel drive or Honda's I VTM-4 AWD drive system. The only available bed size is 5′ 4″ making it less appealing for drivers who do a lot of hauling.
2017 Jeep Wrangler Pickup

Jeep fans around the world were overjoyed to learn that their beloved Jeep Wrangler will soon be available as a pickup truck. The Chrysler/Fiat group didn't release a ton of info on the new Wrangler Pickup truck other than it will be built in Toledo, OH and it's expected to hit showrooms by late 2017.
These new trucks will be fun, fast, and expensive. You can offset some of the high costs of truck ownership by sharing your truck on the GoShare platform. GoShare helps truck drivers turn their truck into an asset by connecting truck drivers with people in their cities who need a hand moving, hauling, or delivering large items on demand. Click on the following link if you are interested in learning more about driving with GoShare.