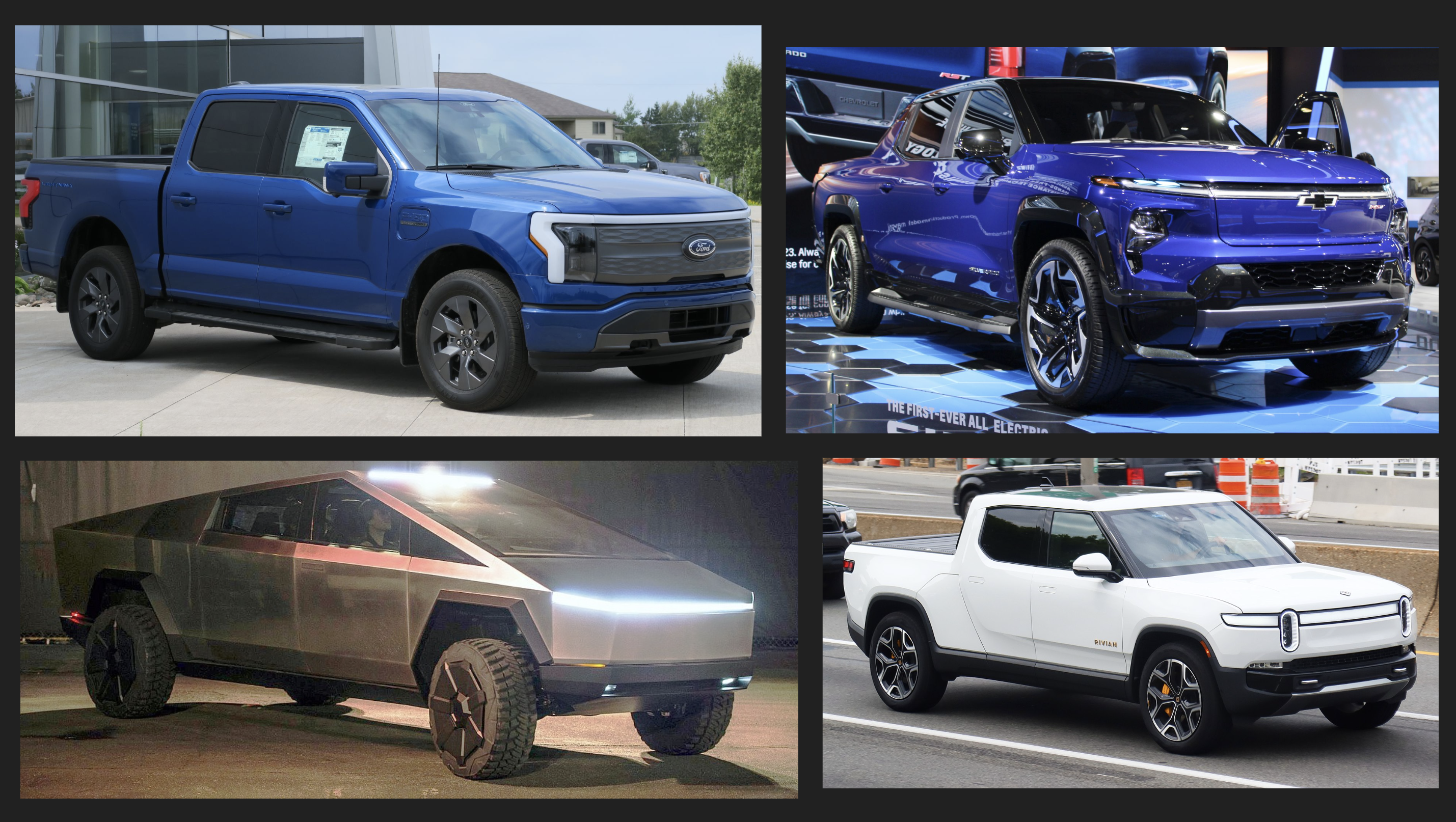 Best Electric Pickup Trucks 2023
Best Electric Pickup Trucks 2023
---
Businesses and consumers have several good reasons and will soon have a lot of good options for switching from gas powered pickup trucks to electric pickup trucks. With Telsa opening their massive Supercharger network to Ford, GM and Rivian, range anxiety will become a thing of the past. The top reasons for switching to an electric pickup truck include: lower total cost of ownership for maintenance, potential tax benefits, performance (speed and towing capacity), environmental impact and lower lower fuel costs.
Here is a side by side comparison of the best electric pickup trucks available as of July 2023 and coming soon. The key factors we looked at include the battery driving range, towing capacity, cargo space, price, 0-60 time, and other important features. This list includes all available options for motors and ranges. One you choose your vehicle you can sign up to earn money with your pickup truck with GoShare.

Tesla Cybertruck

Range:

Single Motor RWD: 250 miles
Dual Motor AWD: 300 miles
Tri-Motor AWD: 500 miles

Towing Capacity:

Single Motor RWD: 7,500 lbs
Dual Motor AWD: 10,000 lbs
Tri-Motor AWD: 14,000 lbs

Cargo Space: 100 cubic feet (vault)
Price:

Single Motor RWD: $39,900
Dual Motor AWD: $49,900
Tri-Motor AWD: $69,900

0-60 Time:

Single Motor RWD: 6.5s
Dual Motor AWD: 4.5s
Tri-Motor AWD: 2.9s

Features: Autopilot, bulletproof exoskeleton, adaptive air suspension
Available: Summer 2023 (estimated)

The Telsa Cybertruck on paper is the most capable of the group. The max range, towing capacity, cargo space and speed are top of the class and impressive by any standard. The only downside are the controversial looks of the Cybertruck. It's not exactly ugly but it fails to live up to the high design standards that Tesla has exhibited with Models S, Y and 3. Features like Autopilot make driving a lot easier. More Cybertrucks are being spotted testing in the wild but its still not for sale yet and it's not clear when it will be.

Ford F150 Lightning

Range:

Standard-range battery: Up to 230 miles
Extended-range battery: Up to 300 miles

Towing Capacity:

Standard-range battery: 7,700 lbs
Extended-range battery: 10,000 lbs

Cargo Space: Up to 77.4 cubic feet (frunk and bed)
Price:

Entry-level model: $39,974
Mid-series model XLT: $52,974
Current prices on AutoTrader range between: $51,500 for a used 2022 model up to $145,000 for the Platinum model

0-60 Time: 3.8s
Features: F-150 Lightning Pro commercial model, over-the-air updates, Pro Trailer Hitch Assist
Available: Now

The Ford F-150 Lighting is a good looking truck. Not veering too far off the path from the design standards that have made the F-150 the best selling vehicle in America for decades. The driving range of 230-300 miles is certainly enough for your daily driving needs although it is middle of the pack based on current estimates. Performance numbers for speed and towing capacity are very respectable. The F150 Lighting is available now and it's not cheap.

Rivian R1T

Range:

Large pack: 314 miles
Max pack: 400 miles

Towing Capacity: Up to 11,000 lbs
Cargo Space: 65 cubic feet (bed and gear tunnel)
Price:

Base price: $67,500
Top-end model: $75,000
Current prices on AutoTrader start around $75,000

0-60 Time:
Features: Quad-motor AWD, Air Suspension system, Rivian Adventure Gear
Available: Now

The Rivian R1T was the first of the group to be sold to the public. The reviews so far have overall been very positive. The Rivian truck has a distinct look that is somewhere between attractive and unattractive. The range of 314-400 miles is more than enough to ease any range anxiety that you may have. The performance and towing capacity are the best available on the market today. The cargo space is on the small size for the class. Overall a solid choice if you need an electric pickup truck today.

Chevrolet Silverado EV (Details are tentative)

Range: Estimated up to 400 miles (details to be confirmed)
Towing Capacity: 10,000 (estimated)
Cargo Space: Not yet announced
Price: Not yet announced
0-60 Time: 4.5s (estimated)
Features: Super Cruise semi-autonomous driving, unique Multi-Flex Tailgate, anticipated 800V charging architecture
Available: Now (fleet and commercial customers), Summer 2024 (consumers)

Details are limited but if the first electric Chevy truck looks anything like the image above it's going to be a big hit. The unique multi-flex tailgate will allow for up to 10ft of storage space making it a very good choice for drivers who need to transport extra long cargo. It likely won't be the fastest in the group but will have respectable towing capacity. If the 400 mile range estimate holds up it will be one of the best in class. GM announced that initial availability for Fleet and Commercial customers would start spring 2023. Retail availability expected summer 2024. Learn more about new GM vehicle discounts available to GoShare Delivery Professionals.

Ram 1500 Rev (Details are tentative)

Range: 350-500 (estimated)
Towing Capacity: 14,000 (estimated)
Cargo Space: Not yet announced
Price: Not yet announced
0-60 Time: Not yet announced
Features: Anticipated inclusion of Level 3 autonomous driving, 800V charging system from Stellantis eVMP platform, integration of RamBox storage system
Available: Q4 2024 (estimtated)

The Ram 1500 Rev is one of the best looking trucks in the class. If looks are your top priority it may be worth the wait for the first ever Ram EV. It's not just the exterior that we are excited about. The interior design looks futuristic and best in class. The estimated range and towing capacity (if accurate) will be at or near the top of the class. The Ram 1500 Rev is expected to be available in Q4 2024.