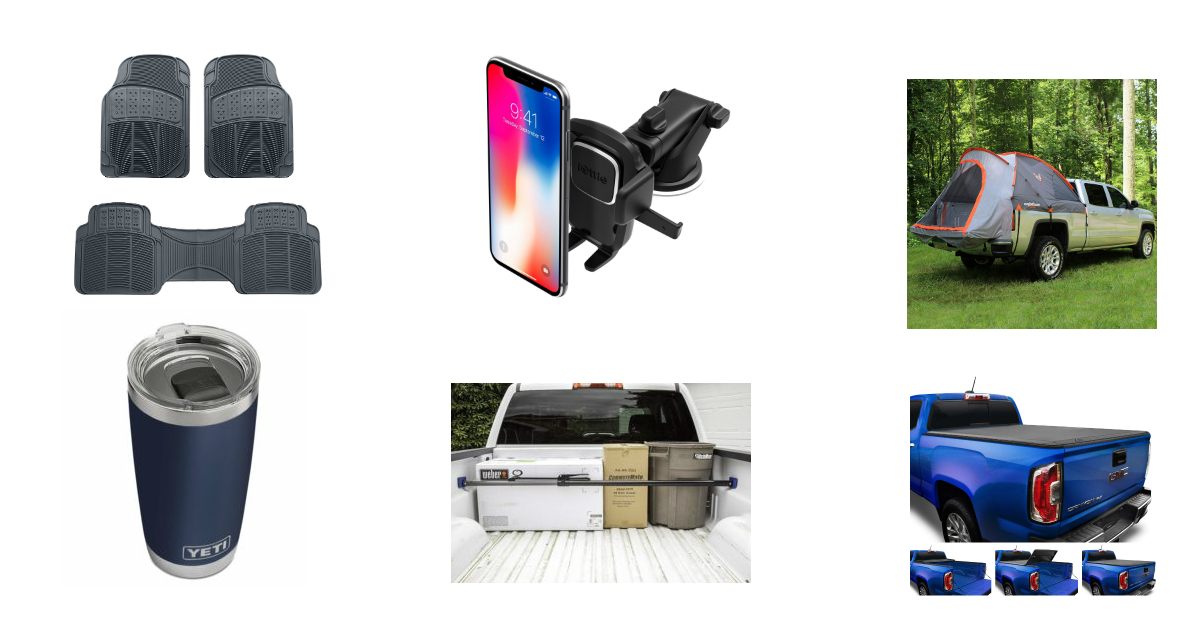 Best Christmas Presents for Pickup Truck Lovers
Best Christmas Presents for Pickup Truck Lovers
---
This Christmas, get the pickup truck lover in your life a gift they will truly love. We've created a list of the best Christmas presents for pickup truck lovers. From the creative and unique to the useful and practical, there is something here for everyone. 
Get ready to put a smile on their face this Christmas! Any of these gifts are sure to delight.
Cargo Stabilizer Bar
This gift may be a little awkward to fit under the tree, but it is worth the extra wrapping paper and ribbons. The cargo stabilizer bar keeps a pickup truck's cargo from sliding around while the truck is in motion. This is the perfect choice for practical gift-givers who want to give something useful this year. And, they'll think of you every time they load up the back of their pickup.

UnderCover SwingCase Truck Storage Box
The UnderCover SwingCase is a versatile truck toolbox that provides a unique way to store theirs. The truck toolbox installs to the inside, side of the truck. Pull the release lever, instantly swinging out towards you for easy tool access. You'll bring them extra festive cheer if you include a few tools to stock their new toolbox. To see more toolbox recommendations, read our post The Best Truck Toolboxes for Your Pickup Truck.

Windshield Cover
Dreaming of a white Christmas? It may look great on the holiday cards, but it's not so fun scraping a fresh layer of snow and ice off a truck windshield. The height of pickup trucks makes this scrapping chore especially challenging. Surprise them with a cover for their pickup truck. Nothing says, "I love you" more than saving someone the hassle of de-icing their windows.


Heavy-Duty, All-Weather Floor Mats
The winter months bring foul, wet weather. Mud and road salt can stick to your shoes and make a mess of your vehicle's carpet. Help keep their beloved pickup clean with this useful gift. MAXLINER floor mats are generally regarded as a top of the line for all-weather protection. Unlike generic, rubber mats, they are customized and molded for each vehicle model to provide complete floorboard coverage. For small messes, simply wipe them clean. for large messes, take them out and hose them off. Better, they are backed by a Lifetime Warranty. So, they'll protect their vehicle for many holiday road trips to come!

If the MAXLINER is more than you've budgeted for, but you still love the idea of this gift, check out Amazon Basic's 3-Piece Rubber Floor Mats. These one-size fits all mats won't provide total coverage, but they are a versatile option that covers the most high-traffic areas of the vehicle. They feature non-skid designs and are easy to clean with water.


Vehicle Phone Mount
This cool and useful gadget would make a fun and unexpected stocking stuffer. A smartphone holder helps ensure that your favorite pickup driver's hands remain safely on the wheel while driving. But, it keeps the smartphone in full view for easy access to maps and navigation.
Smartphone holders can be mounted with a cushioned clip on the air vent, like this example from Beam Electronics.


Emergency Roadside Kit
It may not be the most fun gift under the tree this year, but a roadside kit can come in handy. With everything from jumper cables to an air compressor, this kit will make sure your favorite pickup truck driver is ready for whatever the new year throws at them.

Backup Camera Kit
This unique and unexpected gift is sure to surprise them. Many newer trucks come with backup cameras to assist with reversing and parking. With this simple-to-install kit backup camera kit, you can add this feature to older pickup models. These cameras are more affordable than you might think and provide an incredible safety assist when backing up.

Travel Mug or Tumbler
Keep their drink holder from getting lonely with an insulated tumbler that keeps coffee warm or water cold. The
YETI Rambler
comes with a magnet sliding lid to protect from spills and will keep drinks warm for 5 to 6 hours. it's the ideal gift for the person that already seems to have everything. Pair it with their favorite roast or tin of tea.

Truck Bed Tent
This gift is the perfect surprise for the outdoor and nature lover in your life. Turn your pickup truck bed into a portable campground with this clever truck bed tent. The perfect surprise for someone that loves the outdoors and camping. Turn your pickup into a portable campground with an innovative truck bed tent. A sky view vent allows you to admire the moon and stars. The tent is easy to install with color-coded poles and stuff sack with sewn-in setup guide. The floorless design also allows you to set up your tent without removing gear already in the bed of the truck.


Cargo Net
This heavy-duty cargo net features bungee webbing that allows it to double in size. It secures cargo under harsh road conditions. Plus it includes a convenient zippered storage bag for when it's not in use. This gift will be perfect for them to help secure their other gifts on the way home from visiting friends and family.

Tailgate Ladder
Whether the back of the pickup is full of presents, like Santa's sleigh, or bales of hay, this helpful ladder makes it easy to access the load. This creative gift is sure to please any pickup truck owner.


Truck Cab Organizer
This may not be the most glamorous gift, but it is definitely one they will actually use. An organizer, built just for pickup trucks, stretches across the back of the cab to hold everything from tools to hand sanitizer. Throw in a few helpful items, like cleaning wipes and simple tools, to help get them started in filling up those pockets.


Vehicle Trash Can
Any road trips planned for the new year? Have messy kids that leave junk in the back of the pickup? This leakproof trash bin is the perfect gift to help keep their pickup organized and clean. This creative gift may be the most useful present they receive this Christmas. It may even be useful on Christmas morning, giving you a place to put the discarded wrapping paper and bows.


Tonneau Cover
Everyone enjoys a white Christmas when they are snug inside, it does make vehicle maintenance more challenging. Keep snow, rain, and other weather and debris out of their truck bed with a sleek tonneau cover. Even if they park indoors, this helpful cover can protect the pickup when out and about and in retail parking lots. Before investing in this gift, make sure to match it with the right bed length.


—
Need a truck? GoShare can connect you with a network of local moving and delivery professionals with pickup trucks, cargo vans, and box trucks. All delivery professionals are licensed, background checked, and insured.
Got a truck? Sign up with GoShare to earn money driving with your vehicle.
As an Amazon Associate, GoShare earns a commission from qualifying purchases.