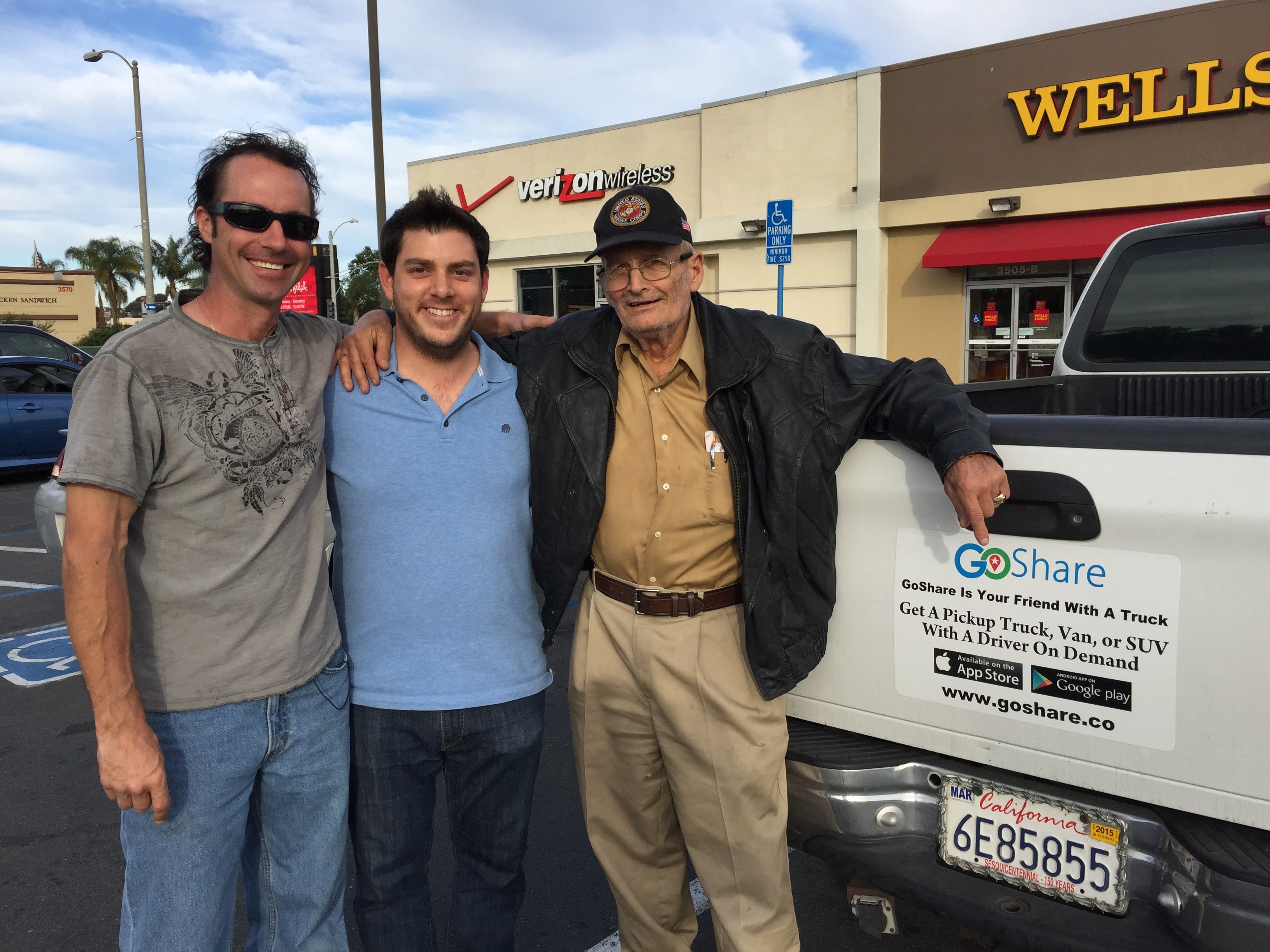 A New Start For GoShare and a Disabled Vet
A New Start For GoShare and a Disabled Vet
---
I woke up last Wednesday morning with an incredible feeling of excitement. I knew that in a few hours GoShare would be completing our first job. It was a perfect 80 degrees and sunny that day. Ideal weather for working outside. The customer, Clay, was referred to us by a storage facility that I had stopped by a few weeks prior. When Clay first called I was hesitant to agree to do the job because our technology was not complete yet. Clay insisted that as long as we could provide a man and a pickup truck to help him move that the technology was not important. I agreed and we arranged a time to have one of our drivers (Steve) meet the customer at his house and help him move. I decided that I would come along to supervise and help being that it was our first job.
The pickup address was in the City Heights section of San Diego, not one of the safest neighborhoods in the city. On my way to the job, the excitement that I felt in the morning quickly turned to nervousness. For some reason I had a feeling that something was going to go wrong. I had no idea what it would be, but I knew that something wasn't right. As soon as I pulled up to the house it was very clear that we would need to proceed with caution. There were two middle aged men outside the house and I asked if one of them was Clay. As soon as I said his name, Clay came outside to greet me. He was wearing a Marine Corp hat, a black leather jacket, and walked with a limp. He invited us in and showed us a room full of suitcases and a closet full of boxes. He told us that he was moving out and that all of the suitcases and boxes were going with him. Seemed easy enough.
Steve and I began loading Clay's items into Steve's truck. About halfway through the job, a woman showed up and ran right past us into the house. She immediately started screaming at Clay and it was obvious that she was the landlord and was not happy to see Clay moving out. Without giving an exact quote, the woman was dropping F bombs left and right and was acting in a very threatening way towards our customer. I was hoping that it didn't get physical and luckily it did not. When she was done yelling at Clay, she  began throwing his suitcases and boxes out the front door and onto the grass. One of the suitcases was thrown directly at me but I was able to catch it without causing any damage.
Even though we were getting paid by the minute, I couldn't wait to get out of that place. Clay didn't seem like he was in a rush though. He was cool as a cucumber and took his time to make sure he didn't leave anything behind. I guess I can't blame him as I wouldn't ever want to go back to that house either. Finally, Clay let us know that we had all of his things and we proceeded to take his things over to the storage facility. I felt an immediate sense of relief and we got out of there asap.
After we left I had a chance to talk to Clay and he confirmed my initial suspicions about the house. According to him, the other people who were living in the house were regularly abusing drugs including Heroin, Meth and Crack. The police had been called to the house many times throughout the few months that Clay had lived there and he couldn't be happier to get out. When I asked him where he was moving to he explained that he would be moving into a homeless shelter for veterans. That would be a good short term solution provided that he showed up to the shelter on time and won the daily lottery. If not then he might wind up living on the streets. This was a better option than staying in the house he was living in.
To make matters worse, Clay described his medical condition to me as being dire. He had a laundry list of health problems including limited vision. Can you imagine having limited vision and having to live on the harsh city streets at night? Sounds like a nightmare to me. I want to find a way to help Clay but I can't do it on my own. I set up a Indiegogo campaign to try and raise $1,000 to help Clay with his medical expenses and housing needs. If you are reading this and can contribute a few dollars it would be greatly appreciated. If you can't contribute money please help by sharing this post with your friends and family. All proceeds will go directly to Clay. He does not know I am doing this. I hope to surprise him with a check in the coming weeks. I spoke to a woman at the shelter where he was staying and she said that he was in the hospital but she was expecting him back by Tuesday. I will keep you updated on this story here.