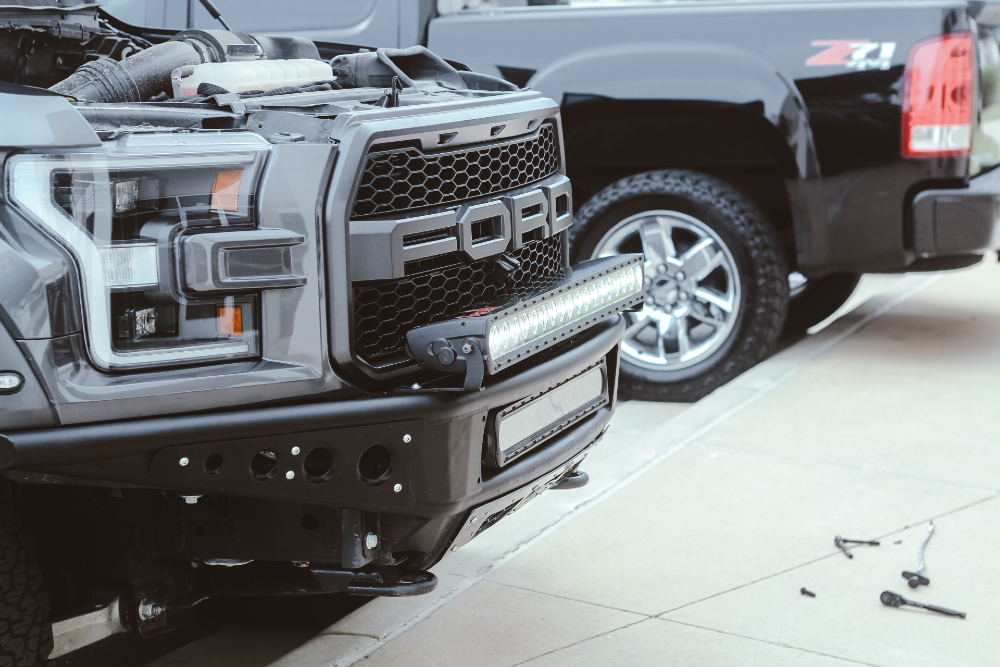 A Complete Guide to Building The Ultimate Work Truck
A Complete Guide to Building The Ultimate Work Truck
---
Trucks are known for their ability to handle all sorts of work due to their solid frames and powerful capabilities. It's no wonder that pickup trucks are deemed the go-to choice of vehicle in numerous industries, ranging from moving services to delivery needs in retail and construction.
Owning a work truck can come in handy during a number of occasions, regardless of your field of work. The last thing you want, however, is an unreliable and inefficient truck on the job. 
Creating your ideal work truck is a rewarding task, but it is also difficult and time-consuming. It's important to make sure that your truck is balanced and not lacking in certain areas, which could cause serious problems if your vehicle fails to deliver mid-project. Whether you're looking to purchase a new pickup truck or make improvements to your current one, there are a handful of factors to consider when building the ultimate work truck. 
Avoid the hassle of constant repairs and replacements later down the road by following our complete guide on how to build the ultimate work truck below. 
Capability
One of the most important qualities of a pickup truck is the ability to haul and tow large items, thanks to its built-in truck bed. If your work activities involve heavy lifting and transportation of items, then you should be searching for a full-size pickup equipped with a powerful engine that boasts high payload and towing capacity ratings. 
In particular, the Ford F-Series and Ram trucks are standouts when it comes to stellar hauling and towing packages. Their heavy-duty models are more than capable of hauling a plethora of goods or towing large equipment. If you're in the market for a new truck, check out our list of The Best Pickup Trucks of 2020 for more information.
Engine-wise, gas pickups generally offer higher payload capacity. Diesel pickups, however, produce higher torque, which in turn leads to more horsepower and higher towing capacities. It's smart to determine the primary functions of your work truck and their relation to your line of work, then choose the right engine accordingly.
Interior Space
If you're aiming to build the ultimate work truck, chances are your truck will be used for more than just a daily commute vehicle. This is where the importance of a well-designed interior comes into play. Pickup trucks aren't exactly known for spacious interiors, but you can expect to be spending plenty of time inside your truck. And, storage and seating capacity is crucial if your job involves working with others or needing an enclosed storage space.
Choosing the right cab configuration is often overlooked, but essential if you plan on storing cargo or fitting extra passengers inside your pickup truck. Aside from the utility of truck tool boxes, storage in the cab allows for easy access to any parts or tools required for your job. 
In most cases, choosing an extended cab works fine for providing adequate storage and seating capacity. If you seek additional storage or greater convenience for your passengers, then it might be wise to invest in a crew cab configuration instead. It's important to note that crew cab configurations generally limit the maximum truck bed length. So, carefully weigh the pros and cons of a shortened bed versus a larger cab according to your work needs.
Interior Comfort
Interior comfort is a must-have if you're going to be spending a lot of time behind the wheel of your work truck. At the very least, you should seek a comfortable and supportive driver's seat. But, it certainly helps to have extra utilities that add a greater level of comfort as well.
For example, a well-functioning air conditioner and heater is important during weather extremities. Working over the summer heat or winter cold can be detrimental not only to your truck's external and internal parts, but to your comfort inside as well. Seat warmers are excellent enhancements for extra satisfaction when on the road. 
Additionally, a quality sound system and smart console that connects to your phone go a long way in terms of interior comfort. Prolonged periods of working and driving can be excruciating to deal with, so playing your favorite songs and listening to podcasts are effective stress relievers. A built-in navigation system with voice tech is always handy too, preventing multitasking and safety hazards while driving.  
Safety
Utilizing your pickup truck for more than just transportation equates to more time spent driving. Unfortunately, this means that you open yourself up to a wider range of vulnerable and dangerous situations on the road. Safety is a huge concern that should not be overlooked, so make sure that your truck has the latest features and tools to assist with a smooth and secure ride from start to finish. 
Most truck manufacturers nowadays emphasize the importance of safety in their lineups of vehicles, offering a multitude of safety technologies and enhancements. When creating the ultimate work truck, some key driver-assistance features to keep an eye out for include blind-spot monitoring, lane keep assist, and collision monitoring. Multiple cameras with a heads up display screen that details vehicle speed, navigation, and safety alerts are also vital for ensuring safety on the road. 
If you're thinking about buying a new work truck that advocates for safety, the 2020 Ram 1500 is the first full-size truck to win the Top Safety Pick Plus from the Insurance Institute for Highway Safety. 
Fuel Economy
More travel and work means greater fuel demands for your pickup truck. Whether long-distance transportation is a critical part of your work or you're thinking about running a hot shot trucking business, a top priority should be to build a fuel-efficient work truck. 
If you want to achieve the most fuel efficiency for your work truck, then it's a good idea to invest in a truck equipped with a diesel engine. Diesel engines last longer, offer higher horsepower and towing, and save you more money at the pump. Specifically, the diesel-based Chevrolet Silverado is ranked the most fuel-efficient pickup truck of 2020. For a complete list of the most and least fuel-efficient trucks of 2020, check out our post here. 
Consider looking into after-market gas tanks that can extend the range you drive between fill-ups. If you suspect your tank may be cracked or leaking, then you run the risk of wasting fuel and endangering yourself and others on the road. A solid tank replacement is necessary if you want to add a layer of safety and extend the longevity of your work truck's effectiveness. 
The Importance of Customization
Pickup trucks are highly customizable, making them great for converting into your ideal work vehicle. From enhanced power to improved utility, outfitting your pickup truck with essential work add-ons is an easy way to gear it in line with your work.
Step bar – Installing a step bar can make loading and unloading cargo stored inside your truck much more convenient. If your work truck is equipped with a lift kit, then hopping in and out of it can be tiresome and exhausting to deal with. But, step bars allow for easy access to navigate into and out of your truck without struggle.
Camper shell or tonneau cover – Adding a camper shell or tonneau cover to the bed of your pickup truck is especially important if you plan on hauling large amounts of cargo. If you are a delivery driver or mover, then you can expect a range of large and fragile items to be stored in the back of your truck. Camper shells ensure that external weather cannot negatively affect your storage conditions and protect against theft as well.
All-terrain tires – Replacing your truck's factory tires with all-terrain tires is a useful way to improve your work truck's ride quality on the road, especially if your job requires constant travel in unusual terrain. 
Tool box – Whether you're a mover, handyman, construction worker, or all of the above, installing a tool box to your truck's bed is one of the most effective methods to safely store your possessions. Without a tool box, you are left with storage options in your truck's bed or interior, both of which are unsafe and do not have much space to begin with. A tool box can be a convenient and secure method of storage for tools and other items, regardless of your line of work.
Lumber rack – Lumber racks are great additions to your work truck, especially if you frequently engage in delivery or construction DIY projects. Transporting lumber without a rack can be frustrating and presents a safety hazard on the road. Simply equipping a lumber rack on top of your truck is an easy solution for these issues.
Floor mats – Your work truck is bound to accumulate a hefty amount of dirt and debris during your jobs and projects. Placing floor mats throughout its interior is a great way to maintain cleanliness and uphold a fresh, immaculate look for potential clients. 
Bedliner – In a similar fashion to floor mats, bedliners help with cleanliness and protection of the bed of your work truck. Spray-on bedliners can assist with protecting against scratches, rust, debris, and other litter that frequently build up when working.
Towing hitch – If your work involves the necessity to transport hefty machines, parts, and equipment, then a towing hitch is a must-have. Equipping a heavy-duty hitch to your work truck makes it highly capable of towing large trailers, RVs, boats, and more. 
Tie downs and anchors – Along with a bed cover, tie downs and anchors can provide further safety for your cargo at all times. Hauling large loads is never an easy task, but proper use of tie downs and anchors makes the process much safer and simpler.
If you're looking for more ideas on how to spice up your work truck, have a look at our list of the best pickup truck mods and accessories.
Additional Resources:
Did you find this article helpful? Check out our other tips and info for pickup truck owners: