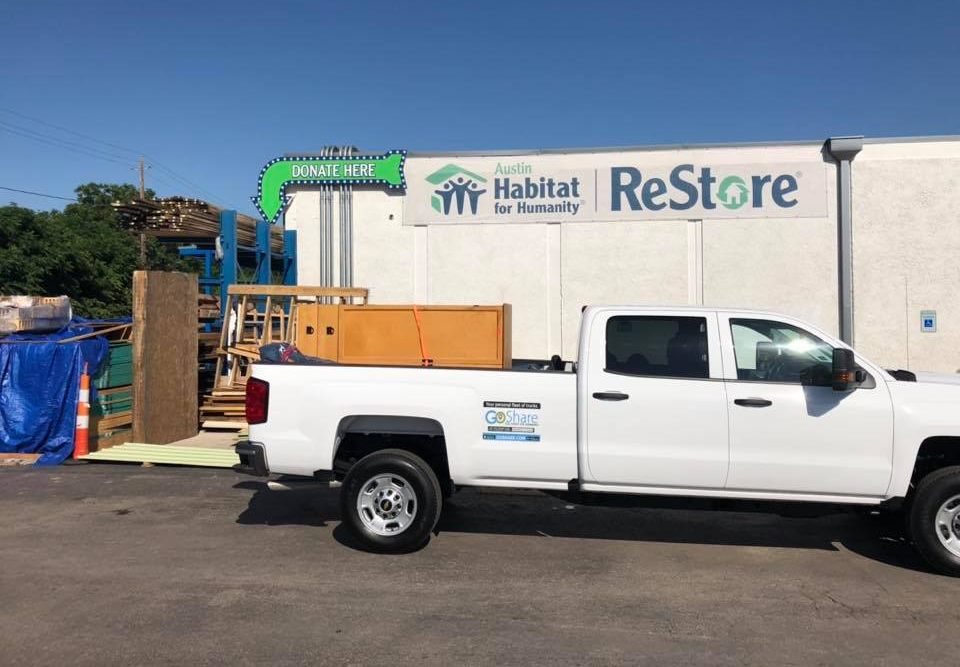 Donating Furniture: 5 Charities That Pick Up Donations
Donating Furniture: 5 Charities That Pick Up Donations
---
Do you have old furniture lying around, collecting dust and taking up valuable space? Perhaps you recently replaced your refrigerator, but you're unsure of how to get rid of the former one.
Donating furniture to charity is a generous act that goes a long way toward helping those in need. But, donating can also help reduce stress and declutter, especially before a move. Whether you're looking to lend a helping hand or organize your home, several charities are available across the nation to help with furniture donations. 
If you need help on where to donate furniture, take a look below at our list of five charitable organizations that pick up furniture donations. 
Goodwill
Goodwill is an established nonprofit organization that provides employment training, job placement services, youth mentoring, and other community-based services. Goodwill has operated for over 118 years. They have 157 local organizations across the United States, Canada, and 12 other countries and more than 3,300 stores in North America. Donated items get sold in Goodwill stores at steeply discounted prices for those in need. Revenue generated from donated items get directed toward funding valuable employment training and job placement services for local communities.
Acceptable items: Goodwill accepts clothing, electronics, furniture, appliances, and household goods. They allow vehicle donations, including cars, trucks, SUVs, vans, boats, RVs, campers, and motorcycles. The vehicle doesn't have to be in running condition either, so you can get rid of your junk car or broken mower that is taking up space.
How your donation helps: Through donations, Goodwill offers jobs and job training programs, employment placement services, financial education, youth mentoring, and more. Your donation assists the elderly, youth, individuals with disabilities, and people in your local community who seek much-needed support.
Learn more: Goodwill.org
The Salvation Army
The Salvation Army is a longstanding organization that was founded in 1865. The Arc serves over 7,000 locations in the U.S. that help people with a wide variety of needs. The Salvation Army aims to fight hunger and poverty by running charity shops, operating shelters for the homeless, providing disaster relief, and offering rehabilitation for addicts. Donated goods get sold in The Salvation Army Family Stores, and proceeds are used to fund their Adult Rehabilitation Centers and other support programs.
Acceptable items: The Salvation Army accepts donations of vehicles, furniture, appliances, clothing, and household goods. Monetary donations are also appreciated for funding various community-based programs.
How your donation helps: Donating to The Salvation Army contributes to hunger relief, housing, and homeless services, adult rehabilitation, prison ministries, and more. The Salvation Army assists natural disaster victims, victims of human trafficking, addicts, at-risk youth, seniors, the homeless, and others in need. 
Learn more: SalvationArmyUSA.org
The Arc
The Arc is a national community-based organization that advocates for and supports individuals with disabilities. They were founded in 1950 and have grown substantially to assist the evolving needs of individuals with disabilities and their families. Local and state chapters are available throughout the nation, along with thrift stores for physical item donations.
Acceptable items: The Arc accepts clothing, household items, books, kitchenware, electronics, and furniture. Car donations and monetary donations are acceptable as well. 
How your donation helps: Your donation to the Arc contributes to their mission of protecting and promoting the rights of people with intellectual and developmental disabilities and their families. The Arc specializes in an array of programs, ranging from employment and technology to health and education, to assist with the daily needs of people with disabilities and their families.
Lean more: TheArc.org
Habitat for Humanity
Habitat for Humanity is a nonprofit organization that was founded in 1976, helping families build safe and affordable homes and improve neighborhoods. Their goal is to create a strong and stable community through sustainable housing efforts for those without a home. They have local home improvement stores called Habitat ReStores, which sell reusable building materials, furniture and appliances to the public. Revenue generated from these sales is used to help families build a better future. 
Acceptable items: The list of accepted donations differs for every Habitat ReStore. But, furniture that is generally allowed includes sofas, chairs, dressers, bed frames, coffee tables, and more. Large appliances, building materials, and household items are acceptable donations. Almost all types of vehicles can be donated as well.
How your donation helps: Habitat for Humanity donations go toward creating affordable housing, repairing homes and neighborhoods, rebuilding communities after natural disasters, and providing sheltering solutions. Your donation helps serve low-income families, students, veterans, poverty-stricken individuals, and others in need of a home.
Learn more: Habitat.org
Furniture Bank
Furniture Bank is a charitable organization that was established in 1998. They are specifically geared to accept furniture donations, redistributing them to individuals and families in need. Furniture Bank also runs a job skills program called Leg Up, which provides work opportunities to youth and other individuals facing barriers to employment.
Acceptable items: Furniture Bank accepts all types of furniture, ranging from sofas and tables to dressers and housewares. Some factors that determine whether or not a furniture piece is an acceptable donation is its condition, size, and value to the needs of families. Long furniture and major appliances are not allowed.
How your donation helps: Furniture Bank aims to create the stability of a furnished home and end furniture poverty to those in need. Donating furniture to Furniture Bank helps displaced families and individuals, refugees, women and children leaving shelters, and people transitioning from homelessness.
Learn more: FurnitureBank.org
Frequently Asked Questions
What condition is acceptable for my items?
Items should be in good condition before donating. New and unused items are preferred, but charities also generally accept gently-used items. This especially applies to furniture and household items, which are used for resale. Items should be free from major damage, stains, rips or tears. However, for car donations, some charities do not require the vehicle to be in running condition as they can be resold for parts.
What common items are not accepted?
Certain items aren't allowed as donations, depending on the charitable organization. Take a look below at the list of common items that are typically rejected as donations. If you are unsure, check with the charity before attempting to donate.
Computer monitors

Large TVs and console stereos

Built-in appliances

Personal care items, such as shampoo and hairspray

Bed frames

Mattresses and box springs

Items that have been recalled, such as hazardous baby furniture and toys

Polluting items, such as chemicals and paint
Are my donations tax-deductible?
Donated items can be tax-deductible. If you plan on itemizing your tax deductions, it's necessary to obtain a receipt and keep records from the charity you donated to. Various charities provide prices on commonly donated items like clothing and furniture. For further information on how to deduct charitable contributions, take a look at the IRS's rules on the subject.
Do charities provide free donation pick up service?
Certain charities offer free furniture pick up from your home to the donation center. You are usually restricted to a certain date and time when scheduling a pickup, and certain large furniture may not be allowed. Be sure to research whether or not the charity you plan on donating to offers this service.
An alternative solution is to use GoShare! GoShare is an app that instantly connects you with a network of truck and van owners who will help pick up and drop off your furniture on demand. You have the ability to select a type of vehicle and number of helpers, depending on the size of the furniture. With GoShare, you can schedule a furniture donation pickup and expect a delivery pro with a truck or van ready at your doorstep in less than an hour.
Other Resources
If you found this post to be helpful, check out similar articles from GoShare's blog, The Dispatch.